Decoupling and essential effects of lean management on job satisfaction, health and depression. A mixed methods approach.
The literature has analyzed the effects of lean management on job satisfaction and health in terms of decoupling or essential effects. However, these studies give a partial understanding of the phenomenon considering these two effects separately, and do not yet explain how and which lean characteristics influence employees' job satisfaction or health. The purpose of this article is to study these two competing claims. We used a mixed methods strategy to contribute to this stream of research combining both qualitative (a case study) and quantitative (statistical analysis based on the 2016-2017 national French SUMER survey on 26,494 employees) studies. We showed that employees' job satisfaction and health result from both lean decoupling and essential effects. We contributed to lean literature in clarifying the theoretical definition of lean management considered as a bundle, which involved identifying a distinctive coherent combination of lean characteristics in terms organizational principles, work organization and management tools built around rationalization logic. The first empirical contribution was to shed light on the way lean decoupling could be associated with employees' job dissatisfaction and health problems. Our second contribution was to identify a negative essential effect of a lean bundle on work health and general health through work intensification. Moreover, we found that the core lean just-in-time principle and both core work organization characteristics-work standardization and quality management-are associated with health and depression problems.
La littérature analyse les effets du lean management sur la satisfaction au travail et la santé en termes de découplage ou d'effets intrinsèques. Cependant, ces études donnent une compréhension partielle du phénomène en considérant ces deux effets séparément tout en n'expliquant pas les processus qui sous-tendent ces effets. Le but de cet article est de prendre en considération ces deux propositions concurrentes dans la littérature et d'en préciser leurs effets. Le choix d'une approche par les méthodes mixtes permet d'articuler une étude qualitative (une étude de cas) avec une étude quantitative (à l'aide d'une analyse statistique basée sur l'enquête nationale SUMER 2016-2017 auprès de 26 494 employés). Nous montrons que des effets sur la satisfaction au travail et la santé résultent à la fois d'un effet de découplage et d'effets intrinsèques du lean. La première contribution de cet article est de prendre en considération le lean comme un ensemble de principes organisationnels, de caractéristiques dans l'organisation du travail, et d'outils de gestion construits autour d'une logique de rationalisation (lean bundle, lean groupé). Cette clarification théorique permet de mettre en lumière la manière dont le découplage entre le lean théorique et son application peut être associé à l'insatisfaction au travail et aux problèmes de santé des salariés. Une deuxième contribution consiste à identifier et préciser un effet intrinsèquement négatif du lean bundle sur la santé des salariés via une intensification du travail. De plus, nous constatons qu'un des principes de base du lean – le « juste-à-temps » – , ainsi que deux caractéristiques d'organisation du travail – la standardisation du travail et le management de la qualité – peuvent être associés à des problèmes de santé et de dépression.
Fichier principal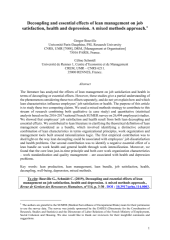 Bouville, Schmidt, Lean and health RGRH in press 2019.pdf (1.08 Mo)
Télécharger le fichier
Origin : Files produced by the author(s)